Choices. Service. Reliability.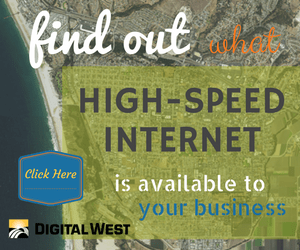 When you think of Internet service for your business, these aren't the three words that normally come to mind. With the large Internet Service Providers, you generally only have a handful of Internet options and almost all of them require bundles. Reliability, well that's usually less than stellar, with spotty connectivity and regular outages. And customer service? You've probably forgotten what that term even means! Welcome to Digital West, where we do things differently. Because we know you have more important things to do than think about your Internet.

Choices
We've got everything from low cost Internet connectivity to high speed fiber optics with symmetric up- and download speeds starting at 100/100 Mbps. Choose your connection, add telephone service or go all in with our full Office Essentials Suite…or not. The choice is yours!
Service
We work with you to identify which option is best for you, based on your specific business requirements, your location and your budget. We're here to meet your needs, not the other way around. We'll help you find the best Internet solution, and we'll support you now and into the future with our live, local customer service team. (Remember that old fashioned concept?)
Reliability
Sure, our fiber optic network is known for its outstanding speed and performance, not to mention 99.999% uptime, but there are many other factors that contribute to our reliability. A big one is the fact that much of our traffic is be "on-net," meaning that in most cases we have point-to-point control over the network and can quickly trouble-shoot and resolve problems. We also proactively monitor all network traffic, heading off problems you never even knew were headed your way!